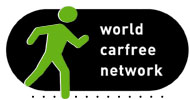 Last October at the "Mobility week workshop" in Budapest (you can read about my experiences in
these articles
) Sonja and I met a few young and enthusiatstic volunteers who work for the
World Carfree Network
in Prague, Czech Republic. That's also how I learned about some nice events they organize in York, England, in June and July. But before I will come to that, let my briefly introduce you to the WCN...
The WCN grew out of the
Car Busters
, an international organization which was founded within the carfree movement in 1997 (by the way, their magazine is still called
Carbusters
). They bring together organizations and individuals dedicated to promoting alternatives to car dependence and automobile-based planning at the internation level. To that end they run various projects, publish the mentioned quartly journal, coordinate the world carfree day, organize conferences etc. Read more on their website
worldcarfree.net
.
A cartoon from
Carbusters' photostream on flickr
From June 28 to July 1 this year they organize the 9th
Towards Carfree Cities Conference
in York, England. It's basically adressed to everyone who is interested in mobility and building the environment, in particular, professional transport and town planners, urban designers, grassroots campaigners, architects, academics and policymakers from around the world. Interested? Then read their
folder
and visit their
conference homepage
.
Moreover, and that's what was actually pointed out to me by Dasha, there is a
youth exchange
organized right before the conference from June 23 to 26:
"3E by World Carfree Network Europe – A capacity building seminar for young NGO leaders to equip, encourage and to empower the youth on their rights and role as citizens in a democracy."
What this means in practice is 30 young people interested in equality, environment, urban planning and sustainable transport gathering in York, UK, for
four days of workshops, seminars and discussions
.
During these days you would present and discuss the theory about the traffic power hierarchy. A structuralist way of looking at the city and the problems with cars and automobility. The participants will be working round this topic in small groups, exploring the city of York and in the end of the seminar each group are going to present one example of the traffic power hierarchy that they have found on the streets.
Their intention is that the participants will learn a new way of understanding and working with transport issues in their home cities and develop their thoughts around the topic.
The participation fee is 50€. If you are from Europe and between the ages of 18 and 30, this would allow you to have 70% of your return travel to York paid, and also you would receive a 20% discount on conference registration (via a special link). Your food and accommodation during the four-day youth exchange would also be covered.
For further information visit
the project's website
. If you would like to attend please send a motivation letter and an estimate of your travel costs to info@worldcarfree.net. Deadline is May 15.